I have hardly ever got fanatically addicted to any Bollywood song in recent times. There are songs which I like to casually listen to, once in a while, but the songs which I get insanely, fanatically addicted to are usually Harris Jayaraj songs. For those unaware, I idolize Harris Jayaraj :) ...
The last such case of insane addiction of mine was to the song "
Google Google
" from Thuppakki. I couldn't get enough of it, I still can't :) ...but that could also be because there hasn't been a Harris Jayaraj album since November last year.
I hardly listen to Bollywood these days, as I feel everyone sounds the same. In Kollywood, each person has his/her own unique signature flavor - just by listening to the song, you can identify who has composed it. But in Bollywood, if you throw any new song at me, I'll be stumped - It could be Pritam, it could be Amit Trivedi, it could be Vishal-Shekar ...Except Himesh Reshammiya's songs, you really can't identify who the composer is ...
Anyway, in spite of all this, in recent times, I had really liked the songs of
English Vinglish
, "
Disco Deewane
" from Student of the year, "
Paint it red
" from Zindagi Na Milegi Dobara..
Chammak Challo
, may be...umm, that's about all I can think of. The last song which I was highly addicted to was the title track of "
Ek Main Aur Ek Tu
" by Amit Trivedi - I was totally in love with it! :) ...but not to the point of insanity!
But this song, which I'm gonna talk about, is easily my most favorite Bollywood song in recent times. I'm insanely addicted to it...it's almost like the song runs in my blood, veins, nerves, bones. ..everywhere! I had never paid attention to this album when it released. ( told you, I hardly listen to Bollywood music these days)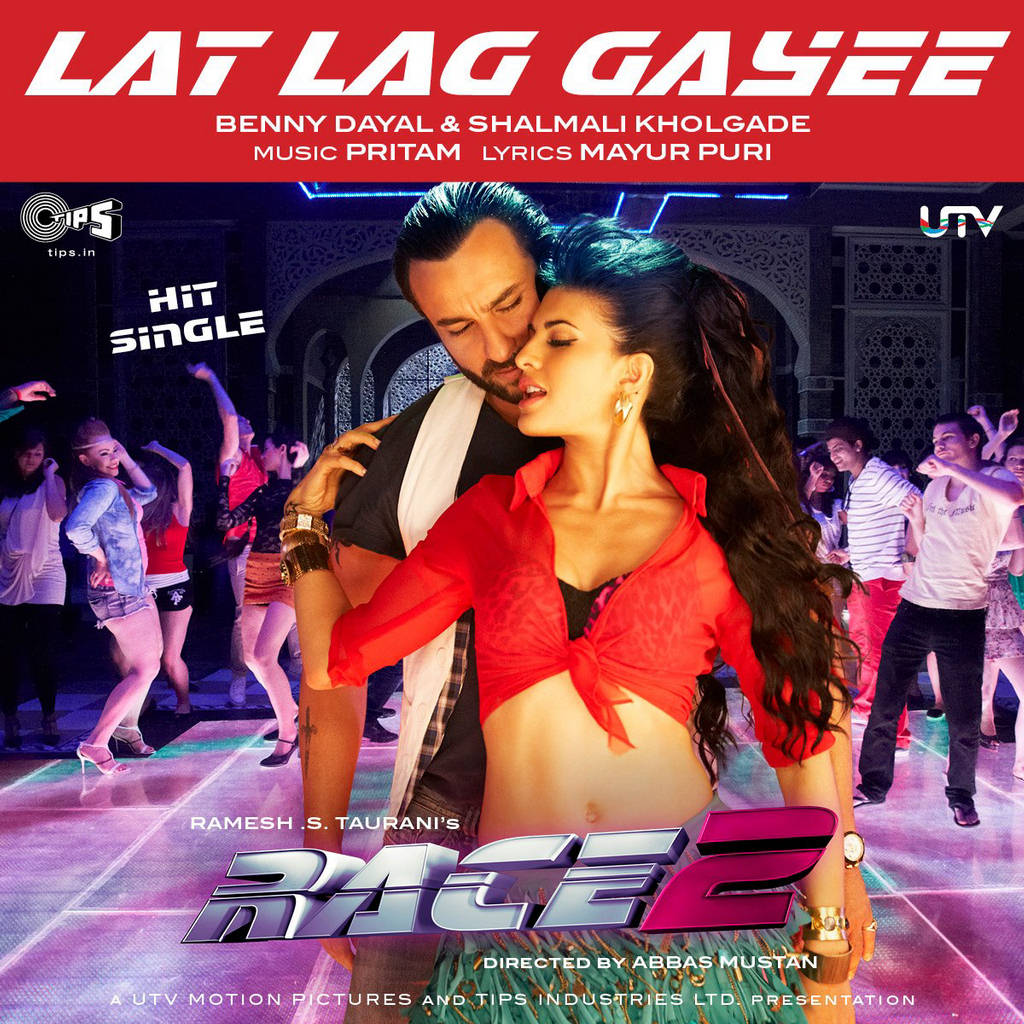 I've been gymming for the past 3-4 months at Snap Fitness and it was over there, that I started listening to all these new Bollywood songs which would be played at full blast - a good charger early in the morning. The playlist was pretty much the same everyday, with just changes in order. So, over time, I kept hearing this song - I had no clue which song it was, who had sung it, who had composed it - the words "Beimaan ..dil bada beimaan" stuck on to my head, as did the chorus - I'm very bad at comprehending Hindi lyrics, so it first registered in my mind as "akh lad gayee". ( remind me of a 1990s Bollywood song )...the "ah ah ah aa yeah" part stuck on to me next...but what really caught on to me was the starting bit of music before the punch-packed beat begins - as juicy as it can get!
One fine day, I decided to Youtube the song. But I didn't know the name nor the movie nor the singer. How would I search? I typed "akh lad gayee" and it returned the 1990s song. Then I tried my luck typing "Beimaan Dil Bada Beimaan" and woohoo! It worked! It was then that I learned the name of the song - Lat Lag Gayee from Race 2. I then got the complete details and saw the singers names - Benny Dayal. (Ohhhhh...Namma Benny aa!? was the first thought which came to mind..lol...Benny was mostly singing Tamil songs before he made it super-huge in Bollywood, if I'm not wrong ) and Shalmali Kholgade - I had no clue who she was.
I then listened to it on Youtube ..and there was no stopping me after that! It was an explosion, pandemonium ..whatever you can call it ...in my head! Every part of my body shut down, except my ears and mind - which were both captured by and confined to this piece of magical extraordinary awesomeness! :) :)
It was then that I also realized that the other song which had caught my attention - "
Party on my mind
" was also from the same movie. That also addicted me a lot, but Lat Lag Gayee was still miles ahead - simply unstoppable!!
I didn't like the video a lot - the only reason for me to like it was Jacqueline Fernandez (HAWT !!!!!) and the only reason for me to dislike it was Saif Ali Khan ( Thu!!! ).....but who cares, when this song plays, I automatically close my eyes and like I told you, my body shuts down completely without any choice but to leave my mind and ears to be taken captive.
This insanity had its repercussions on my mom too - This song would be on my lips all the time, everywhere - the bathroom, in the bedroom singing along while listening to the song or while bathing my dog or even while driving, with her sitting behind on the bike. She didn't have a choice and soon, I could hear her humming it too :D ..involuntarily, methinks!
The next things I did - liked the FB page of the song, posted about the song on FB / Twitter etc. I still can't resist posting about the awesomeness of the song :P ..as you can now see an entire blog post from me dedicated to it! I still keep posting about it on FB and Twitter too! :P
This song worked magic on me - it kept me awake everyday after lunch, when I usually used to take a quick, 10-15 minute power nap on my desk. In the gym, whenever a song got over, I would pray like never before that the next song should be this one and when it indeed was, there's no describing how much I got charged up :P ;...If I were on the treadmill, I could run non-stop at the speed of 13-14 km per hour also :P (The treadmill shows heart rate excess not advised blah blah...but I can't help :P ...Lat Lag Gayee makes my heart go bonkers :D ) ...Okay kidding, I never really ran like a maniac :P...but yeah, I was joshed up enough to.....If it were the cross-pedal, I would synchronize my pushing+pedaling to match the beat :D ...If it were weights, I would get all the josh to lift them easily...I usually cringe at the thought of lower body exercises - lunges etc ..but if Lat Lag Gayee is on, lunges become a cup of tea :D
Another occasion was during this year's IPL match in Bangalore between RR and RCB. I had gone with my friend Vinay and the match was interesting only initially and then got as boring as it could get, because Dravid chose to play like Gayle and Gayle chose to play like Dravid. Gayle's batting almost put me to sleep when during the strategic timeout, they suddenly played this song - I woke up ...and began to sing along :D :D
Months have passed but the addiction hasn't come down even a bit. If anything, it has only gotten bigger and bigger :) ...This has got to be Pritam's best song ever, in my opinion, assuming he hasn't flicked this one from anywhere. A person is innocent until proven guilty, so well, let's give him all the adulation he deserves for this masterpiece :)
Benny Dayal has become like the textbook voice for trendy, groovy songs - Ek Main Aur Ek Tu, Disco Deewane and now this one. But Shalmali stunned me ..what singing!! Mind-blowing magic!! :) ...Hers is a Vasundhara Das-ish voice (which almost every female Bollywood singer in recent times sounds like)...but in this song, she's absolutely brilliant! :)
I frankly didn't know who the lyricist was..I just looked up his name now, to write it here - Mayur Puri, says Wikipedia...Another round of applause! :)
I've gotten mildly addicted to Khiladi 786 too, now ...after being subject to it for 4 months in the gym :D ..especially
Saari Saari Raat
and
Hookah Bar
...
But none as big as this one :)...Anyway, signing off for now...because, I'm listening to this as I'm typing this and the more listen, the I'll sing words of praise on this song I'm afraid!
Will try to push away the earphones with all my might ...and try to sleep! :D
Good night everyone!
Monday ..sigh! Monday spent listening to Lat Lag Gayee - not so sigh! :D
Cya!
Cheers!
Ashwin.
UPDATE - Missed out mentioning Aashiqui 2 in recent addictions! Fabulous album!